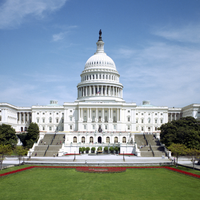 by Seth Hansen - Communications Coordinator for the Texas K-12 CTO Council
E-Rate works! That was the motto of the 2017 EdTech Advocacy and Policy Summit. Frankie Jackson, Chief Technology Officer at Cypress-Fairbanks ISD, and I had the opportunity to represent the educational technology community for Texas at the Advocacy and Policy Summit. We teamed up to visit our local House Representatives and our Texas Senators.
Congress and the Trump administration will make important decisions this year that could significantly impact education technology leaders, their schools, and the students they serve. Participants started off Thursday with training from joint leadership between CoSN, ISTE, and SETDA. Topics covered included E-Rate, the Lifeline Program, Student Privacy, and Title IV funding within ESSA. Leadership from the organizations equipped participants with best practices for meeting with Congressional representatives and their staff members. Overall, we were well prepared to head into our pre-arranged meetings.
We arrived on the Rayburn House Office Building first to meet with Bill Flores, the Representative for the 17th Congressional District of Texas. We met with Jordan Ballard, Congressman Flores' Senior Legislative Assistant. Congressman Flores' office is important because he serves on the Communications and Technology Subcommittee under the Energy and Commerce Committee. This subcommittee oversees the FCC and in-turn creates the rules and policies the FCC has to abide by. Mr. Ballard was engaged and receptive to our presentation. He asked questions about E-Rate, how impactful the funding was, and how the funding is distributed. Mr. Ballard took a keen interest in learning more about Student Privacy. Frankie and I shared that much of the work in regards to Student Data Privacy is being done at the state level.
Congressman Pete Olson, Representing the 22nd District of Texas, also serves on the Communications and Technology subcommittee. If you live or work in one of the following cities, reach out to Congressman Olson about EdTech topics of importance.
Alivin, Manvel, Pearland, Katy, Missouri City, Needville, Richmond, Rosenburg, Stafford, Sugar Land, Friendswood, Webster
Our second stop was a meeting with Educational Legislative Assistant Ariel Gordon, of Senator Ted Cruz's office. The Senator's staffer was receptive to the topics presented, and did have a level of familiarity around some of our requests.
The last stop on Captiol Hill was Senator John Cornyn's office where we met with George Leonardo, one of Senator Cornyn's Legislative Aides. Mr. Leonardo was attentive to the conversation. He had a particular interest in understanding how E-Rate and Lifeline were funded. With a high level overview, we explained the Universal Service Fund process. Mr. Leonardo was also interested in the reduced funding of Title IV in ESSA. The reduction from 1.65 billion approval to 400 million provision in FY17 greatly impacts the activities and programs available under the new Student Support & Academic Enrichment Grant program.
As Thursday wrapped up, we met back together and discussed the collective impact made for educational technology with other state leaders.
Friday morning our group broke into two groups. One group went to the Department of Education and the other group visited the Federal Communications Commission. I was assigned to the FCC group.
We started off our FCC meetings with Chairman Pai's Wireline Advisor, Dr. Jay Schwarz. Dr. Schwarz was understandably tuned into to E-Rate. He was interested to hear personal stories from members on how E-Rate was impacting their districts. Dr. Schwarz commented that contrary to some belief, Chairman Pai is supportive of E-Rate and feels it is a good program. He felt that slight modifications might be beneficial, but overall he wants to see E-Rate continue. Dr. Schwarz did speak at some length about Chairmain Pai's disappointment with USAC and EPC. Our message to Dr. Schwarz was, yes, there are issues with USAC and EPC, but don't let that impact funding levels.
Commissioner Clyburn's Wireline Advisor, Claude Aiken, was very receptive to all the programs. Mr. Aiken mentioned that Commissioner Clyburn has been supportive of essentially every order in recent history from the FCC. Advisor Aiken also spoke highly of the work we are doing in education.
Lastly, Commissioner O'Reilly himself was willing and able to meet with us. He was joined by his Wireline Advisor, Amy Bender. I would say the meeting was somewhat intense. Commissioner O'Reilly's biggest issue with E-Rate was that he did not like districts utilizing money to self-provision their own networks. He felt like this was a reach in regards to how the policies were written. He did say that at this time, he has higher priorities than E-Rate, in particular, figuring out how money is going to be allocated with the increased requests that are coming in for the Universal Service Fund. At one point Commissioner O'Reilly also questioned the use and effectiveness of technology in the classroom, sighting studies. His biggest sticking point during our conversations was that all he could do was implement the policies that Congress gives him and do that by the letter of the law.
The FCC meetings were very powerful. We met with the folks who are directly responsible for making decisions that affect district pocketbooks across the nation.
Now, more than ever, it's essential for federal policymakers and officials to hear from educators about the benefits of digital learning for students, teachers and families, and to help shape policies reflecting this input. It's not too late to add your voice to this debate.
Policymakers have a wide array of responsibilities and they rely on experts to help them make sound decisions for their states and congressional districts. Education technology policy is no exception, and your expertise is incredibly valuable to members of Congress, their staff and key leaders at the U.S. Department of Education and the Federal Communications Commission. I would encourage you to reach out to your representatives and staff members on these issues.
Dr. Jay Schwarz – Legal Advisor, Wireline – Commissioner Ajit Pai - jay.schwarz@fcc.gov
Amy Bender – Legal Advisor, Wireline – Commissioner Michael O'Reilly – amy.bender@fcc.gov
Claude Aiken – Legal Advisor, Wireline – Commissioner Mignon Pyler – claude.aiken@fcc.gov
George Leonardo – Legislative Aide – Senator John Cornyn – george_leonardo@cornyn.senate.gov
Ariel Gordon – Legislative Correspondent – Senator Ted Cruz – ariel_gordon@cruz.senate.gov
Jordan Ballard – Senior Legislative Assistant – Congressmen Bill Flores - jordan.ballard@mail.house.gov
---