Winter Meeting 2017
Come join your colleagues at the Texas K-12 CTO Council Winter Meeting on January 28, 2017 at the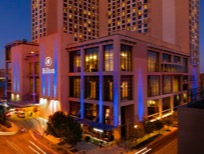 Hilton Hotel, Austin Convention Center
500 East 4th Street
Austin, TX 78701
There will be great food, informative content, and lots of opportunities to network with your peers!
Register and find out more about the event on the Events Calendar. Registration closes Jan. 24 so register soon!
Book your hotel room through TASA's room block. Early-bird registration and housing requests for the 2017 Midwinter Conference open Thursday, September 1. Click here to find out more information about hotels:  Learn more.
Program Agenda
Time

Session

Presenters

7:30 – 8:00am

Breakfast & Networking

 

8:00 – 8:15am

Welcome and Announcements

Website Communities
Join a Committee!
Help at TASA MidWinter

Lewis Wynn, Chair

Alice Owen, TX K-12 CTO Council

Seth Hansen, Midway ISD

8:15 – 9:00am

Keynote – Data Privacy / Security Panel

Frosty Walker, Chief Information Security Officer - TEA

Melody Parrish, Deputy Commissioner of Technology - TEA

Cristina Ruiz Blanton, Special Risks Consultant - TASB

Bryon Kolbeck, Ex. Dir. of Technology - Lewisville ISD

9:00 – 9:45am

Coppell ISD – Apple / IBM Watson Project

 

 

Sam Farsaii, CTO - Coppell ISD

Marilyn Denison, Asst. Supt. - Coppell ISD

9:45 – 10:15am

Ed Tech Revolution (x), Now What?

 

Cindy Bingman, Executive Director of Technology Services - Aldine ISD

Nguyen Bui, Executive Director of Technology Innovation & Initiatives – Aldine ISD

Mike Patterson, Texas Education Strategist – CDW

10:15 – 10:30am

Break & Networking

 

 

10:30 – 11:15am

 Digital Designing for a Collaborative Environment

Ernie Stripling, CIO – Denton ISD

Dr. Mike Mattingly, Asst. Supt. for      C & I – Denton ISD

Dwight Goodwin, Director of Instructional Technology – Denton ISD

11:15 – 11:45am

 How to Find a 1-1 Partner, Not Just a Vendor 

 

Patrick Reagan - Fujitsu

11:45am – 12:30pm

Lunch & Networking

Awards

 

 

12:30 – 12:40pm

Modernization of the Data Center

Roman Gonzales, Solutions Sales Executive - Lenovo

12:40 – 1:10pm

CyFair ISD Wireless Access Point and Guest Access Implementation

Doug Minderhout, Director of Engineering/Texas – Layer 3

Paula Ross - CyFair ISD

1:10 – 1:50pm

T-TESS and Technology

Albert Martinez, Director of Technology Support Services - Corpus Christi ISD

Cary Perales, Coordinator for Instructional Technology – Corpus Christi ISD

1:50 – 2:00pm

Hovercam

Craig Justice, HoverCam

Steven Stone, CyFair ISD

Johnny Chen, Prime Systems

2:00 – 2:30pm

Research on Blended Learning

Barbara Brown, Prestonwood Christian Academy

Donna Henry, Lewisville ISD

2:30 – 3:00pm

Implementing Digital Learning Programs? Keep It Simple, Secure, and Scalable

 

Roniesha Copeland, District Success Lead – Clever

 

3:00 – 4:00pm

Committee Work

 

Join a committee in an informal setting!

4:30 – 6:30pm

Reception at Moonshine

 

Sponsored by Presidio